Contrary to popular opinion, vines are not a plant that requires intensive care even in Poland, which at first glance is not associated with a wine country. In order to cultivate it for your own needs, you don't need to know any complicated techniques. Compared to many other plants, it is not very demanding in terms of soil type, mineral content or irrigation.
We have now such a large selection of varieties with high resistance to frost and disease that our climate is not a problem either. You can successfully grow vines even in colder regions of the country like Suwałki or Podhale (as evidenced by our vineyard located in the southern Beskid Sądecki at an altitude of 400 m above sea level).
So what determines the success of wine-growing?
In our view, two things are crucial:
Selection of appropriate varieties for conditions and needs  appropriate type and quality of seedlings.

Appropriate type and quality of seedlings.
We will devote this article to the latter aspect. We will describe a little more what types of vine plants are and what their quality means.
Most of the time, the vines are fully fruited after a few years, and are cultivated for a period of 25 to 40 years. Therefore, the choice of the right seedling does not result in immediate effects, but is crucial in the long run, even if it is just a domestic crop. A vine which is ill, dried and not properly grown in the initial period will never reach its full value.
What are the types of seedlings and what to look out for?
Annual seedlings with so-called naked roots.
The basic type of vine which should be planted is an annual seedling with the so-called naked root dug from the ground. This type of vine is the basic seedling used to plant a vineyard all over the world. For professional plantations, nurseries and horticultural companies, this should be the only choice. It is also recommended for amateur crops in home gardens, parcels or small plantations. However, what is very important, vines of this type can be planted only in spring (from March to the end of May) and autumn (from the beginning of October to the end of December until the soil freezes) seasons.
In a few sentences, the production process of this type of seedling is as follows:
1. The preparation for vaccination begins in winter. The backwoods shall be checked if it is healthy and of sufficient strength to constitute material for the production of new vines. On the basis of the selected backwoods, the   stem is cut to a suitable length protected against infections by special preparations and fungicides. After cutting, the stem is sorted to discard a not very strong pieces or with a bad number of meshes.
2. In the meantime, a similar treatment shall be carried out with the pad used for vaccinating the vine. This pad must also be properly cut and protected. The use of diseased pad or the diseased material will make the vine never get full fertility, there may be a problem with fruiting in some years as well as being more susceptible to any diseases. That is why this initial phase is already very important
3. 

In the spring, depending on weather conditions and predictions, the date of vaccination is chosen using specially designed machines.
4.  Vines that have been vaccinated must be treated with a special type of wax and paraffin, in proportion to their size, and with fungicidal preparations.
5. After a few days of quarantine in a cold store, the seedlings prepared in this way are transferred in specially prepared containers to the place of first growth with prepared conditions of precisely controlled temperature and humidity. This is the most critical moment subject to strict control. Too low or high temperature and humidity will cause bad growth of the vaccine, drying out or decay of sensitive areas. This stage is subject to strict and frequent control in our nursery. Isolation of the vine from fungal agents is constantly monitored.
6. 

The initial period of growth ends with an concrescence of vaccination. The specific vine must be grown with a pad throughout its circumference. The so-called callus, i.e. the place of growth, must be not too thin or thick. This is the next step in sorting the seedlings.
7. Such seedlings are planted in the ground in late spring.
8. Throughout the growing season, vines shall be cultivated, trimmed and irrigated.
9. 

In the subsequent autumn, vines are usually excavated from the ground after the first frosts have occurred.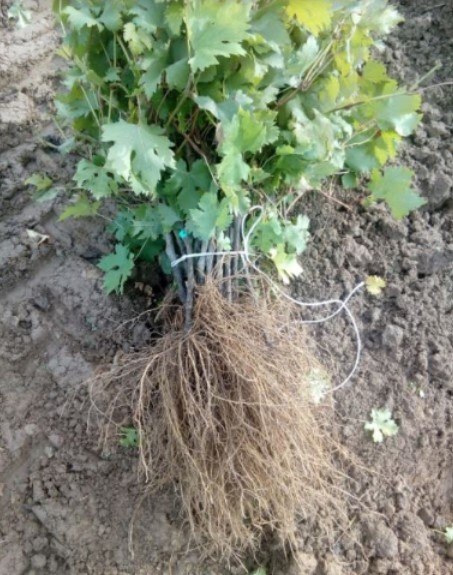 10. 

The next step is to sort the vines and trim them to a height of two to three meshes. A short cut is always recommended after the first year. This will ensure that you do not have to deal with it anymore and that your vines will be strengthened for the coming years. Only strong ones with a thick stem and appropriately woody will be offered for sale. Only the strongest ones will be delivered to you. We do not sell any vines of the second category of this type of seedlings, which are intended for our internal purposes. Sorted seedlings are sent to a cold store where they are kept until spring. During this time, they are systematically treated with fungicides.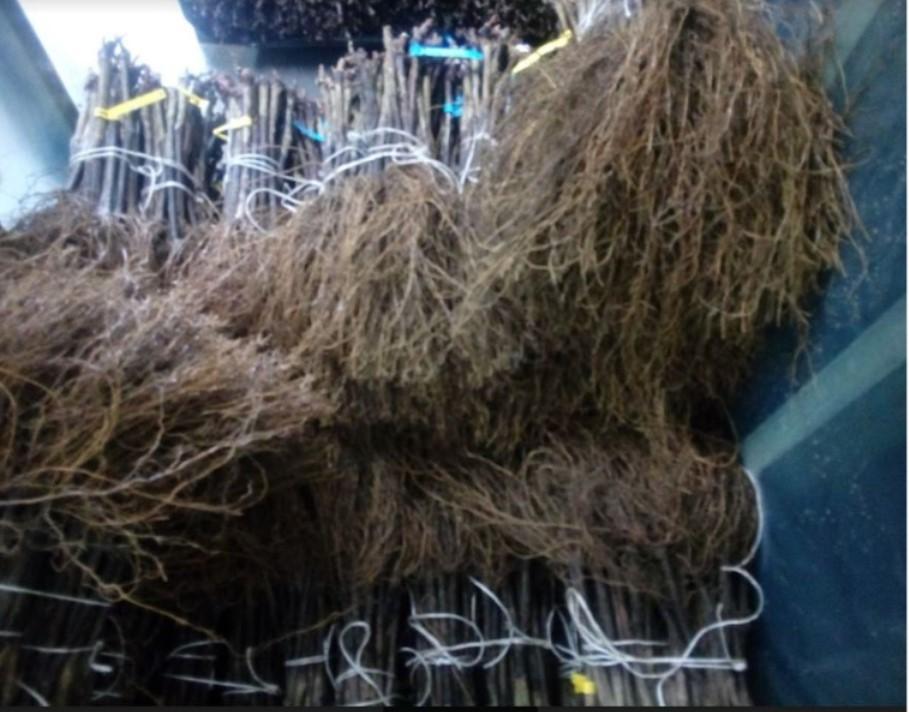 11. The seedlings are ready for sale in spring.
The right seedling should have a well-developed, even root system (strong roots on one side and on the other side a lack of roots is abnormal). There should be at least 25 cm between the vaccination site and the root growth point. Thanks to this additional length of the stem, vines will be able to be planted deeper. At the height of the stem it will release the additional roots and the main root system will be located at least 30 cm below the surface of the ground, which significantly protects the vine against frost. An additional advantage of this is that such deeply planted vines slightly delays the start of flowering in the spring, which in our climate is very beneficial. And it protects the bush from frosts in May. The stem should be short after being cut in two or three meshes but relatively thick.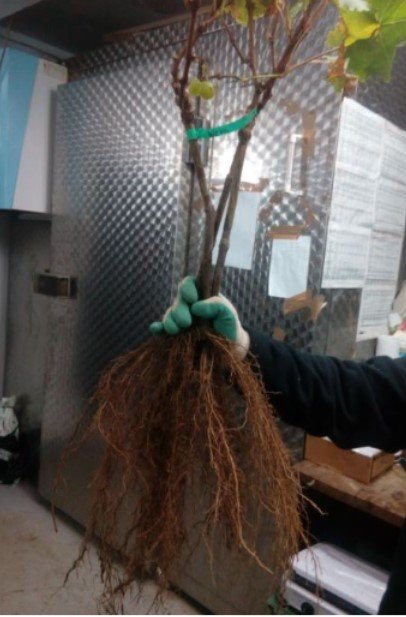 In summary, we present the advantages and disadvantages of a seedling with a naked root.
Advantages:
The natural type of vine plant, the process of planting it in spring or autumn, is normal for it. It shall not be treated as being replanted.

Such vines are best accepted after planting. The smallest risk of failure.

The roots have a natural structure, are stronger and more developed, and have no artificial limitation, in form of the container/pot.

Fastest development of vines after planting

No thermal shock, no loss of resistance to external effects or environmental changes.

The seedlings were growing all the time in the ground in contrast to pot plants, which most often in the first year are grown in greenhouses and foil tunnels.

Possibility of deep planting, roots less prone to frost.

 The start of vegetation is delayed.

Cheap and safe transport.
Disadvantages:
This type of seedling may not be planted in summer. The planting period runs from March to May/June and from October to December

The vine should be planted in the ground shortly after purchase. Stopping planting is not recommended and if so, the vines should be kept in suitable conditions. That is why we always give our customers the possibility to choose the delivery so that it is us, who hold the seedling and the customer gets it ready for planting.
Long, two-year-old seedling in a pot.
For the reasons described in the case of annual seedlings, we never sell potted seedlings which are only one year old or one-sided on a short stem. The two-year-old vine has grown naturally in the ground for a year, thanks to which it is already hardened and adapted to natural conditions such as: low temperature, cold nights, strong sunlight, wind and natural soil conditions. It is not recommended that vines are planted from the first year (which is crucial for the formation of vines) in greenhouses and tunnels, which is why we never do this.
Below you will find the process of handling a two-year-old seedling in a pot.
In spring, the seedlings described above with the so-called naked root are replanted in a 3-litre container. Of course, its roots must be cut off. The seedlings are short and regularly irrigated all year round.
In autumn, the stem is lightly trimmed and in autumn and the next spring the two-year potted seedlings are ready for sale. The finished vine is about 120 cm tall and has a thick, even stem. It has a bamboo stick supporting the vine and a photo-label with a photograph and description of the variety.
Advantages of a two-year-old seedling in a pot:
It can be planted without obstacles all year round except in winter.

It can be kept for a long time without planting, just take care of watering.

Ideal for wholesale customers and shops that will resell it. Can be kept in the square for a long time.

It has a good form of presentation. The seedlings are already two years old. Very soon will take place the first fruiting.
Disadvantages:
In the long run, it is less advantageous than a seedling with a naked root.

Due to the limited root mass, the initial growth is weaker than that of the naked root.

It must be especially protected during transport (they have 100% safety in our country).
 Three-year-old potted seedling
 

Our offer includes also three-year-old vines in pots. It is a shrub which, after the first year, has been replanted in the ground into a 7.5 litre pot. He is there for two seasons. The already shaped seedling is 180 cm long and has a bamboo stick and a photo-label with a description. Such vines can already be treated as adults. 90% of such seedlings have already fruit in the year of purchase.
It is ideal for people who want to have an immediate fruiting bush, or one that will grow quickly. It is ideal for balconies, terraces and pergolas as well as for adult gardens. They can be transplanted into the ground, but they can also grow in a pot, for which they already have a suitable root system.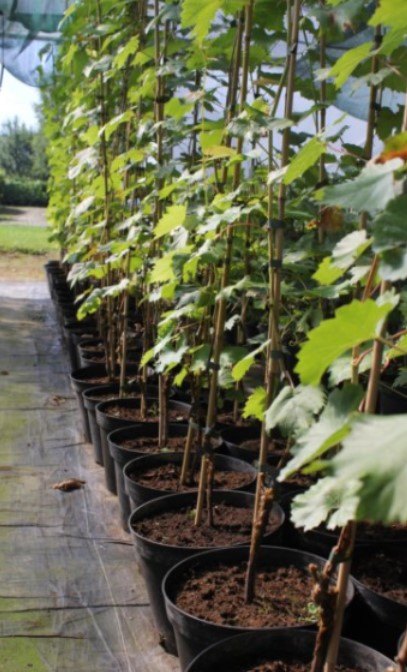 The five-year-old seedlings are sent out with naked  roots.
For those who want to have a fully grown adult vine, we also offer five-year seedlings. For five years, they have been professionally trimmed and shaped. They already have a thick, shaped trunk, thanks to which the seedling is already very strong. Most often, this type of seedlings are bought for balconies, terraces where they will be grown in pots, as well as for planting in ground near arbours and pergolas.This type of vine grows in a container or on the ground, but it already has a root system that is too large to be able to send it in the pot. It would be very expensive, that is why we dig it out, protect it properly and send it with the so-called naked root.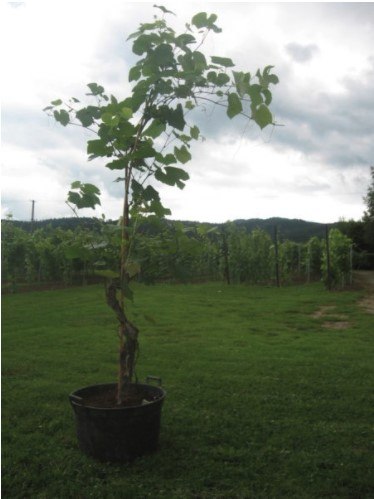 Vine, whether vaccinated or not?
At present, many opinions about vaccinated and unvaccinated plants can be found on the Internet and in the horticultural environment.  It can be said that it is already a lot of myths about it, so at the end of the article we would like to refer to this topic.
In Poland, the majority of sales offers unvaccinated seedlings planted on their own (so-called wild) roots, which is why this type of vine is becoming more and more popular. Moreover, producers of this type of seedlings suggest to customers that vaccinated vines are more susceptible to frost. However, the opposite is true. One could even say that vaccinated vines are especially used in countries with colder climates. However, many producers are not familiar with the technology of correct production of vaccinated vines, which is much more complicated and labour-intensive than planting on the so-called wild root. Hence the widespread availability and practice of planting unvaccinated vines.
It is common to use the name of seedlings vaccinated as precious vines. Vine pads for vaccination meet a number of objectives: they strengthen resistance to dryness and excessive moisture during prolonged summer rains. Vaccination protects the vine against root pests and increases its frost resistance in relation to the unvaccinated seedlings. The right rootstock also increases the growth power of the plant and, above all, improves its fruiting.
Another advantage of the vaccinated seedling is that it increases the effectiveness of cultivation on different types of soils. Here, however, the specific type of pad is of great importance – different types of pads handle different soils in different ways.
In most countries, only vaccinated plants are actually on the market. Hence, we have quite a large selection of pads, which have been grown in these countries. Unfortunately, there is no pads produced by the Polish institute. That is why the pads used for vaccination is originally from other countries with a similar climate. In practice, it is the pads produced by institutes in Germany and Slovakia.
 For many years we have been testing different types of pads in our vineyard and we have observed their behaviour with different varieties. Due to the fact that Poland is a country with a relatively cool climate and quite a large number of rainy days, when selecting a pad in Poland, its impact on the length of the growing season, resistance to frost and resistance to high moisture in the soil is of key importance. On the basis of many years of observations, we believe that the most popular SO4-pad is best suited to our country, and it is there that we vaccinate on it the most of the seedlings.
The SO4 pad is manufactured in Germany. It roots very well and causes good woodiness of the vine, which is crucial in the first years. Another feature is the short vegetation period, which allows for safe cultivation in Poland. It increases the plant's fertility, which is why it is commonly used in large plantations for wine production.
The second pad we use for vaccination is 125 AA. Its main features are the improvement of the growth power of the stem and root system. Recommended mainly for poor soil and dry areas. Not recommended for calcareous soils.
Our offer includes also several unvaccinated varieties, but this applies only to very strong species, which are characterized by extremely high resistance to frost, disease, strong growth and very high fertility.