Browse through the shop
Sale!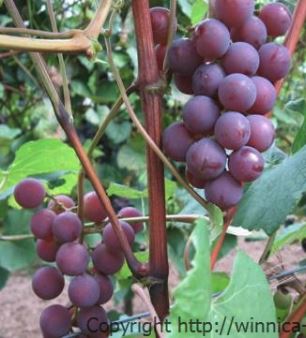 Fredonia – dwuletnia
25,00zł
| | |
| --- | --- |
| Country | USA |
| Frost resistance [°C] | -30 |
| Resistance to disease | high |
| Color of fruits | red-purple |
| Fertility | medium |
| Time of fruit ripening | medium early |
| Purpose | Dessert vines, Decorative vines |
| Size of raceme [g] | 100 - 250 |
In stock

Przedmiotem oferowanego produktu jest sadzonka dwuletnia w doniczce 3L mająca około 120 cm wysokości.
Aby zobaczyć pełny artykuł o różnicach sadzonek jednorocznych od wieloletnich , gołkokorzeniowych od tych w doniczkach i szczepionych od nieszczepionych zobacz artykuł: rodzaje sadzonek winorośli
Sadzonka dwuletnia w doniczce
Oferowana winorośl ma 2 lata. Pierwszy rok rosła w gruncie w drugim roku krzew został przycięty na wysokość około dwóch oczek jak również przycięte zostały korzenie. Dzięki temu winorośl znacznie mocniej rozwija się w następnych latach. Krótkie przycięcie w początkowej fazie zapewni też w przyszłości bardziej obfite i stablilne owocowanie. W tej chwili winorośl ma około 110-120 cm wysokości ,przez cały czas były odpowiednio formowane dzięki czemu obecnie mają grubą łozę i doskonale rozwinięty system korzeniowy w doniczkach 3L.
Tego typu sadzonki idealnie przyjmują się latem .
Każda z oferowanych przez nas winorośli jest szczepiona. Głównie na podkładkach SO4 oraz 125BB.
Dzięki temu winorośle osiągają większą plenność , mocniejszy wzrost oraz większą odporność na różnego rodzaju choroby grzybowe.